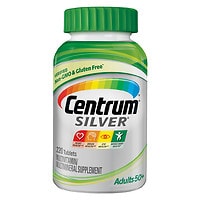 Moises Alou has been taking a healthy dose of his Centrum Silver over the last month. Alou not only has a 23-game hitting streak going, but he's been getting 2 or 3 hits in pretty much every one of those games. Alou is also the oldest baseball player to ever have a 20+ game hitting streak, and his current streak is the longest running streak in the National League this year.
It's not just the fact that Alou is getting hits. Alou is really crushing the ball. He's hitting down the line, up the middle and in the gaps. He's driving in runs and looks like the hitter we all dreamed he'd be. Through 75 games this year Alou is batting .338 with a .529 slugging percentage.
We just need to keep Alou healthy for these final 2 weeks of the season. Keep giving him his Centrum Silver. Provide him with a daily does of Oscal and Ginko. Because if this guy is healthy in the postseason, he'll only make Beltran and Delgado/Green better by hitting inbetween them.