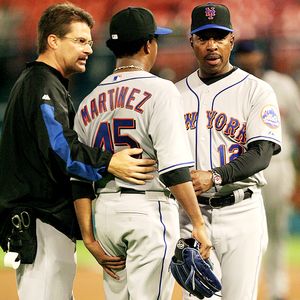 MLB.com is reporting that Pedro Martinez will make his return to the Mets on June 3rd against the San Francisco Giants.
I almost forgot Pedro was even on this team.
It'll be Pedro's second start of the year, giving him two starts more than Aaron Heilman. To me Pedro has become a non-entity. If he pitches, if he doesn't pitch to me it doesn't really matter.
Anything you get from Pedro is icing on the cake, unless he's completely lost everything and he becomes the pitching version of Carlos Delgado.
I wish Pedro the best and hope he can contribute, but I'm not expecting more than 5 innings of work on any given outing.
By the way, I just realized that El Duque is still on the Mets payroll. Just fantastic.