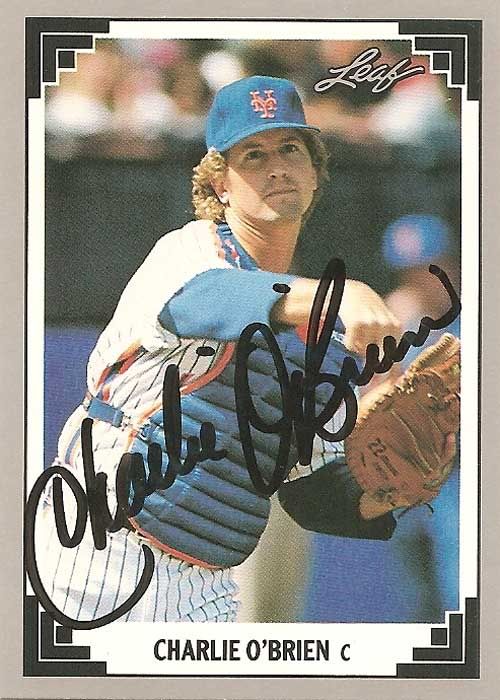 I don't think there was a Mets player I disliked more growing up than Charlie O'Brien. Ok, maybe Doug Sisk, Don Aase and Kevin McReynolds after 1988, but O'Brien is definitely in the top 5.
I couldn't understand how a major league baseball player could bat under .200 and be completely worthless at the plate. Every time O'Brien would get up with runners on base, it was an automatic out or a double play. How on earth did a guy like this get to play every day?
Fast forward 18 years and I give you Brian Schneider.
Schneider has become the same liability that O'Brien was back in the early 90's. Schneider is a pretty good defensive catcher, but let's not fool ourselves into thinking his woes at the plate are covered because he's got an arm like Yadier Molina. Schneider is a serviceable defensive catcher who calls a good game, but his presence in the lineup is as fearsome as Oliver Perez's.
In 2008, Schneider had arguably his best offensive year batting .257 with an OBP of .339, both career highs. This year Schneider is taking a step backward as his current average is a few notches below the Mendoza line at .192 and his OBP is a horrific .288.
Compare that to O'Brien's back to back years of batting .185 and .212 in '91 & '92 and you have a closer resemblance to Schneider than you may initially think.
I was one of those people that liked the Schneider pickup. For some reason I thought he was a decent hitter and a very good defensive catcher. The truth is he's a not-so-good hitter and a respectable defensive catcher. And in this lineup of mediocre bats, Schneider's ineptitude at the plate is all the more glaring.
What about Omir Santos you ask? Santos is the heir to Ramon Castro's throne. He's a guy who comes up big a few games a year and has you thinking he can be an everyday player. I think Santos is a solid backup or platoon catcher, but not a guy you can expect to deliver every game.
I'm starting to think that this off season after the Mets acquire ________ (insert really good starting pitcher here), they should start investigating a new catcher.