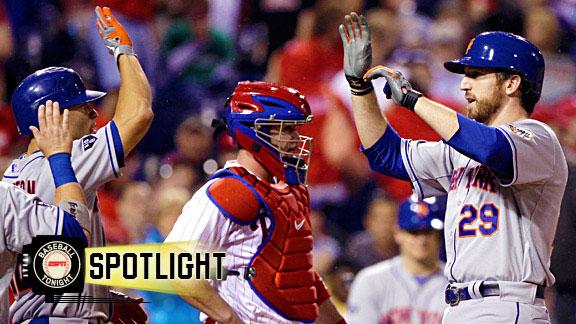 Everything is not going right for the Mets. Tejada who was off to a great start is injured. Thole who is off to a great start is injured. Pelfrey who looked solid is done for the year. Miguel Batista has somehow found his way into the starting rotation. The bullpen has let up more runs than the Mets have scored. Ike Davis is batting below the Mendoza line. Jason Bay is out. Justin Turner is playing shortstop. The Mets' schedule is the toughest in baseball to this point. And the Mets are playing 4 guys on a regular basis who had never started for major league team in any capacity up to this point.
Oh yeah and they just swept the Phillies...in Philadelphia.
This is bizarre. It's remarkable, amazing and I'm loving every second of it, but it's still baffling. How on earth are the Mets doing it? You can make an argument that they are the scrappiest team in the National League right now, but they're pitching is far from top notch.
The key has been 2 out hitting. The Mets are batting .289 with 2 outs and runners in scoring position after last year not being able to scratch past .200. Call it clutch. Call it timely. Whatever you call it, the result is winning baseball.
When the Mets finally do get some consistent outings out of their pitchers and Ike Davis finally turns things around, some even more amazing things can happen. Winning 5 out of 6 from the Phillies in Philadelphia in the first month of the season is beyond unexpected, but there's hope that more of this type of play is yet to come.
It's apparent that the Mets are making believers out of skeptics. I love the headline from Justice4U blog that reads: "
If you don't like the 2012 Mets, you don't like ice cream
."
I do love my ice cream. Let's go Mets!