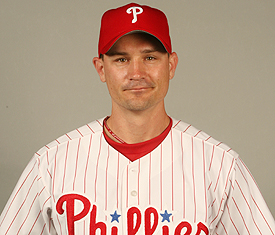 If you haven't heard already, Chris Coste really likes being on the Mets. Here's what he had to say:
"It's the last team I ever saw myself playing for. I knew I was going to accept it, but had to think about it for a few days… It wasn't my choice to leave Philly… I never wanted to leave Philadelphia, I will always consider myself a Phillie."
The thing is I always saw you as a lousy catcher. Funny how beauty is in the eye of the beholder. Right now you're an ugly bench player. Don't bother calling a real estate agent. You won't be in Queens long. Tool.