On Friday night as I jumped around in front of the TV as Johan Santana threw the first no-hitter in Mets history I was shocked to see a Gary Carter jersey in the pile of Mets players mobbing Santana (image above courtesy of
NY Post
). As the camera zoomed out I finally saw that this was a man wearing jean shorts and he was about to get pummeled by security. I laughed at the brazen move by this die hard fan and then was a bit surprised to see he was the only one who ran out on the field during an iconic moment for Mets fan.
I was surprised and saddened to find out that this Mets fan, Rafael Diaz, spent the next two nights in jail for this moment of admitted stupidity and
he actually missed his son's first birthday
because of it. On top of that he has been banned from Citi Field - FOR LIFE!!! Really? Are they going to hang up his picture at every gate and have security make sure he doesn't enter? Come on. This is an unenforceable ruling, but it gets worse. Diaz could also spend a year jail and a $25,000 fine.
I understand that's the law. He broke the law and there's a penalty for it, but let's put things in perspective. It was a victim-less crime. This poor guy is probably getting sufficient punishment from his wife for getting thrown in jail and then missing their son's birthday. He'll be working this one off for way longer than the 1 year jail sentence.
But beyond that, what Diaz did is an iconic moment. Every single highlight of the Santana no hitter shown for the next 50 years will have Diaz in it. I know I won't soon forget him and it reminded me of another iconic baseball moment.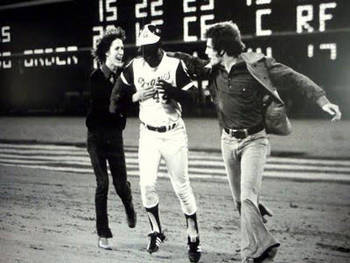 When Hank Aaron broke Babe Ruth's home run record what's the first visual that comes to your mind? I'm guessing it's probably this image to the right. You may not remember who the pitcher was or where the home run was hit to, but you distinctly remember these two guys in funny looking outfits running with Hank Aaron around the bases. In fact an image of this shot is hanging up in the hall of fame. The hall of fame.
Today's game, fans and environment is much different than when Hank Aaron entered the record books, but the fan's reaction is still the same. Uncontrollable jubilation that makes you do something crazy.
Here's to you Rafael Diaz. You did what we all wanted to do. You can have one of my tickets the next time I head to Citi Field. Just wear a mustache and glasses.