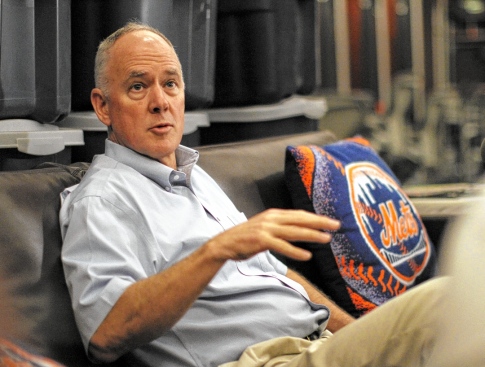 Betting on futures can be a dangerous game. Futures can be used either to hedge or to speculate on the change in price of tan asset. For example, a producer of wheat could use futures to lock in a certain price and hedge their bets on risk. On the other hand, anybody could speculate on the price movement of wheat by going long or short using futures.
I'm not going to pretend I understand all the intricacies of futures trading, but I feel I have a reasonable grasp on the futures exchange that Sandy Alderson is trying to sell us. He's saying 2014 and beyond is where the Mets will compete.
Here's the thing about Alderson's futures plan. It can't be disproven in the present. In fact Alderson has had several years to prove his mettle, but we continue to be sold that 2014 is the year. Could he be right? Sure, but what if he's not? What if his master plan ends up falling apart? Then we've been left with continued years of being awful only to not get any better.
So then Alderson gets fired. Who cares? The Mets and their fans are the ones that will suffer. The moves Alderson has made has been about freeing up money and acquiring young talent. So far not much has been done to improve the team.
All of the assets Alderson has attained currently reside in our minor league system. Matt Harvey is the lone exception. Wheeler could be great. So far the Dickey trade for D'Arnaud & Buck looks genius, but none of Alderson's moves have translated into wins. Isn't that what really matters?
The two biggest flaws with the Mets over the last 3 years have been its bullpen and outfield. Nothing has been done to rectify that. Cowgill was being touted in spring training and now we're longing for Cowgill given that we have to endure Brown & Lagares & Byrd at the plate. Anyone with eyesight can see the Mets bullpen is atrocious. Sure you can say they're overworked, but honestly there are no room for excuses when you continually blow leads and opportunities year after year after year.
But don't worry Mets fans. Next year is 2014. It will all magically turnaround. How? I don't know. But there's a master plan right? Has to be.
But what if there's not. Instead of slowly filling holes the Mets still have gaping chasms that need to be addressed before they can compete in what is becoming the ridiculously talented NL East. From the bullpen to the entire outfield to the now absence of a reliable bat first base, the Mets are in need of more than just a few moves.
So while the Mets season quickly fades away even before summer arrives, someone should start holding Sandy Alderson accountable. Before you know it he'll be named the new commissioner of baseball and the Mets will be left trying to piece together this master plan of his.